Dublin Sat 17 April: Palestinian Prisoners Day Demo @ Israeli Embassy
Palestinian Prisoners Day 2010 Demo - "Release ALL Palestinian Political Prisoners Now!"

On Saturday April 17th at 2pm the Ireland Palestine Solidarity Campaign (IPSC) and the socialist-republican political party éirígí will mark Palestinian Prisoners Day with a joint demonstration outside the Israeli Embassy in Dublin (122 Pembroke Road, Dublin 4).

The demonstration will be followed by a public meeting on the issue of Palestinian prisoners. The meeting will take place at 4.30pm in The Hampton Hotel, 19 Morehampton Road Donnybrook, Dublin 4 (map here) - please check back on this page for full details in the future.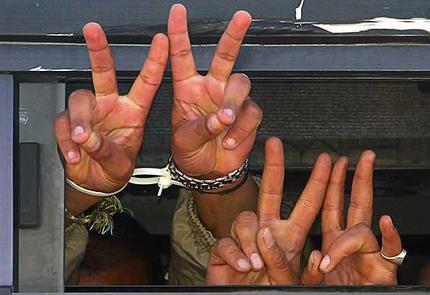 Release ALL Palestinian Political Prisoners Now!
The demonstration will call for the release of ALL Palestinian political prisoners imprisoned by the Israeli State - those 'convicted' in Israeli Military courts and those interned without trial under the 'Administrative Detention' regime. It will also focus on two prisoner case studies - Ahmed Sa'adat, Secretary-General of the Popular Front for the Liberation of Palestine (PFLP) and Abdallah Abu-Rahmah, coordinator of the Bil'in Popular Committee Against the Wall.
The IPSC and éirígí have called this demonstration - as part of the international activities taking place on Palestininan Prisoners Day 2010 - as we believe that all Palestinian political prisoners are victims of Israeli colonialism and Apartheid. We therefore demand the release of all political prisoners held by the Israeli state.
Confirmed speakers for the rally are IPSC activist and Spokesperson Freda Hughes and éirígí Spokesperson and Membership Officer Daithí Mac An Mháistir. Speakers at the meeting will include Clare Holohan (former International Advocacy Officer with ADDAMEER, the Palestinian Prisoners' Support and Human Rights Association) and IPSC Chairperson Dr. David Landy. Further speakers TBC
About the Speakers:
Clare Holohan is an Irish woman who has worked with both UNRWA (as a programme officer for the Gaza Community Mental Health Programme, based in East Jerusalem) and ADDAMEER the Prisoners' Rights group (as International Advocacy Officer), as well as obtaining a Masters in Human Rights, the subject of which was Palestinian children in Israeli prisons. Clare will screen the short Defence For Children International film 'Stolen Child' and speak about the issues surrounding child prisoners in Palestine.
Freda Hughes is a long time Palestinian Solidarity activist in Ireland, and has been on the IPSC National Committe since 2008. Since then she has been the National Events Coordinator, and held a number of other roles alongside this, including Chairperson, Media Officer and Spokesperson. Ms. Hughes is a teacher and educational researcher from Dublin, who is currently studying for a Masters' in Interculturalism in Education. In 2008 she traveled to Palestine for the first time.
Daithí Mac An Mháistir a founding member of éirígí, the socialist republican political party founded in 2006. A political activist throughout his whole adult life, he has been involved in many aspects of the struggle for the rights of people in Ireland and abroad, including Cuban and Palestinian solidarity work. He currently works as a teacher of Further Education and is a sitting member of the éirígí Ciorcal Náisiúnta (National Circle) where he serves as Membership Officer and Spokesperson International Affairs.
Palestinian Prisoners - The Grim Truth
According to ADDAMEER, the Palestinian Prisoners' Rights NGO, at present over 6,800 Palestinians are currently imprisoned by the Israeli state for resisting Israeli colonialism, Apartheid and oppression. Of those, over 300 are children, 34 are women, 18 are elected Palestinian representatives and almost 300 are 'Adminsitrative Detainees' - that is they have been interned without trial not having been charged with any crime or seeing the secret evidence against them. Those 'convicted' prisoners were jailed by non-jury Israeli Military Courts (all Palestinians in the Occupied Territories are subject to Israeli military law, while Israel's colonial settlers are ruled by Israeli civil law - yet another example Israel's Apartheid system). These courts, biased from the outset, do not meet international fair trial standards.
Over four decades of illegal Israeli military occupation, Palestinians from all walks of life have been illegally detained by Israel. Since the beginning of the occupation in 1967, over 650,000 Palestinians have been detained by Israel. This forms approximately 20% of the total Palestinian population in the OPT. Considering the fact that the majority of those detained are male, the number of Palestinians detained forms approximately 40% of the total male Palestinian population in the OPT.
Related Links:
http://ww.ipsc.ie
http://www.eirigi.org
http://www.freepalestinianprisoners.com/
http://www.freeahmadsaadat.org/
http://www.popularstruggle.org/freeabdallah