IPSC Branches take part on International Boycott Weekend
This weekend (July 9-11) is International Boycott Sanctions & Divestment (BDS) Weekend against Israel. Here in Ireland, to mark the occasion, the IPSC (Ireland Palestine Solidarity Campaign) are launching a nationwide petition calling on Dunnes Stores to cease stocking Israeli goods in their stores.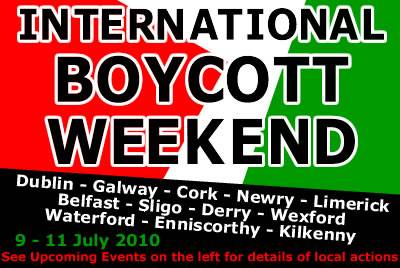 This petition and actions surrounding it are in support and solidarity with up to 200 organisations from within Palestinian civil society who have pleaded with the international community to endorse the call for a campaign of boycott, divestment and sanctions against Israel, similar to that which helped to end the apartheid regime in South Africa. These organisations include Palestinian trade unions, professional bodies such as all the academic unions and associations, medical unions, and most of the major NGOs.
The Palestinian people continue to endure terrible suffering and brutal repression at the hands of the Israeli regime on a daily basis. The illegal occupation of the West Bank, theft of Palestinian land and resources, the continued expansion of illegal settlements and the construction of their apartheid wall continues unabated. Despite Israel's claims that they have somehow 'eased' their illegal siege of Gaza, their inhumane blockade and clear violation of international law continues.
For a full calendar of events taking place from Bantry to Belfast, please see the Events Calendar on the IPSC website: http://www.ipsc.ie